Our Location
You'll find us in a stunning rural location in the heart of the Dorset countryside, Middle Piccadilly is composed of a charming 17th century thatched farmhouse surrounded by courtyard buildings converted into contemporary cottage accommodation, all set within 2 acres of lush grounds.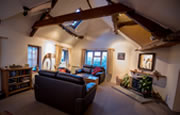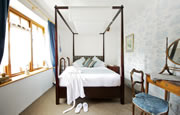 The centre is renowned for its peaceful atmosphere, superb vegetarian cuisine and five star natural therapies. The centre has five guest bedrooms - one double, one double/twin-bedded, one double en-suite with freeview and wifi, two single with wifi and a multimedia room, all are tastefully decorated in a contemporary cottage style stocked with Damana organic bathroom products and cotton bed linen and thick fluffy towels. Each room also has a hair dryer and tea making facilities.
Every guest is treated as an individual, the care by staff and therapists is exceptional. We respond to your unique needs and ensure that your visit leaves you feeling revitalised, refreshed and prepared to return to your daily life. Without being intrusive we do want to make sure you get what you need when you come to our unique environment.
With no more than nine guests at any one time, there are no 'conveyor belt' treatments, each person is cared for as a unique individual. A schedule of treatments is carefully considered in consultation between you and one of our therapists. Our 'smallness' guarantees an unhurried, calm atmosphere – perfect for unwinding and putting aside your cares and worries, if even for just a few days.